Automatically generate ready-to-print PDFs for your daily print communication
The daily design and ensuring the highest graphic standards is an enormous effort. Our solution reduces this effort to a minimum – you save up to 2 days of your daily effort by using Hotel MSSNGR's tools to automatically generate all types of print PDFs. These are 100% precisely tailored to the corporate design of the hotel.
Hotel MSSNGR does all your print material super-fast and 100% accurate!
See how Carbon PDF makes it easy to create your everyday print products in 5* quality with huge time savings!
Daily and weekly guest newspapers
Hotel MSSNGR automatically generates all of your hotel's print material. The daily or weekly guest newspaper is automatically created by our Data Management Hub based on rules for filling in the content. This saves you a lot of manual daily work. And don't worry, everything can be edited if necessary.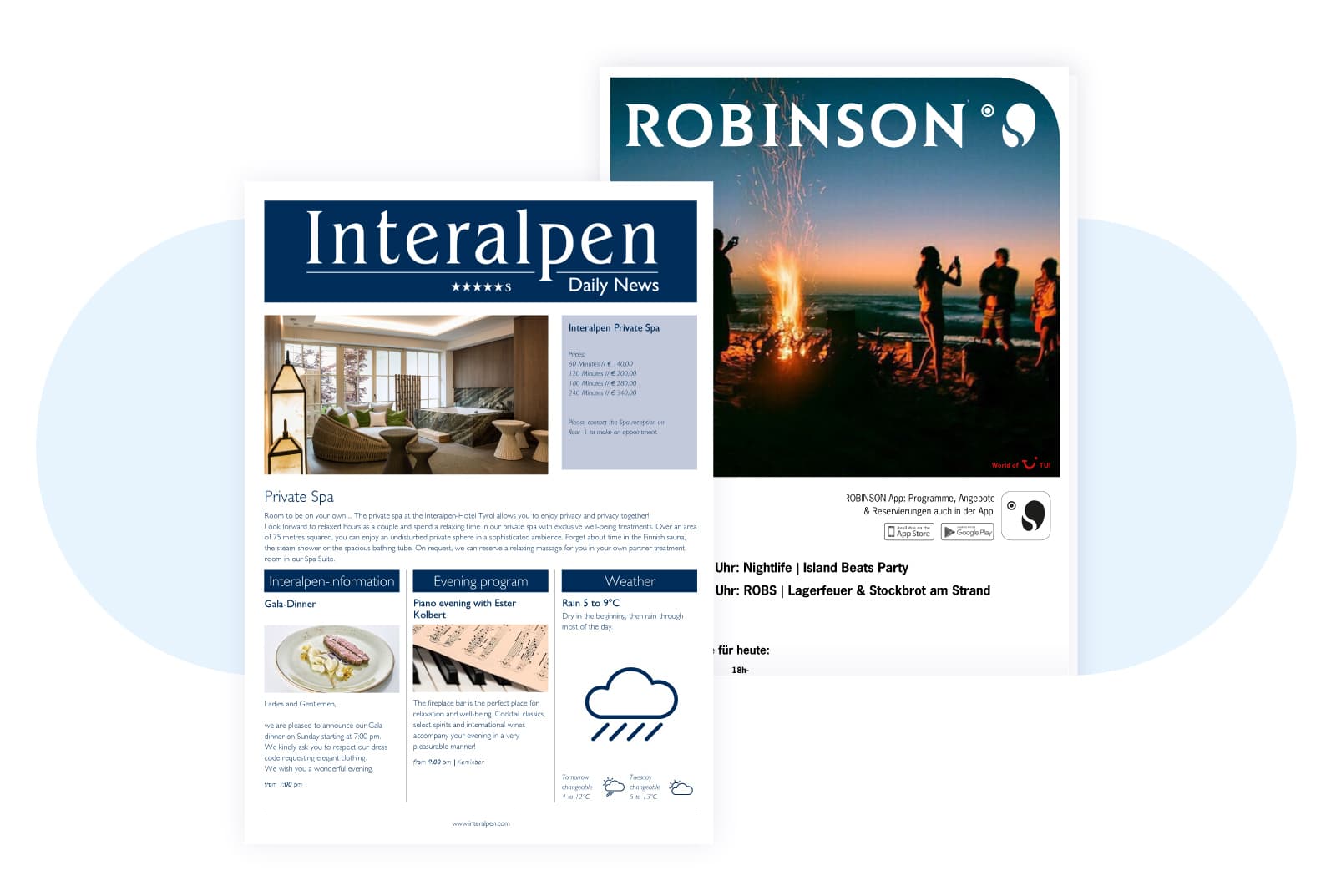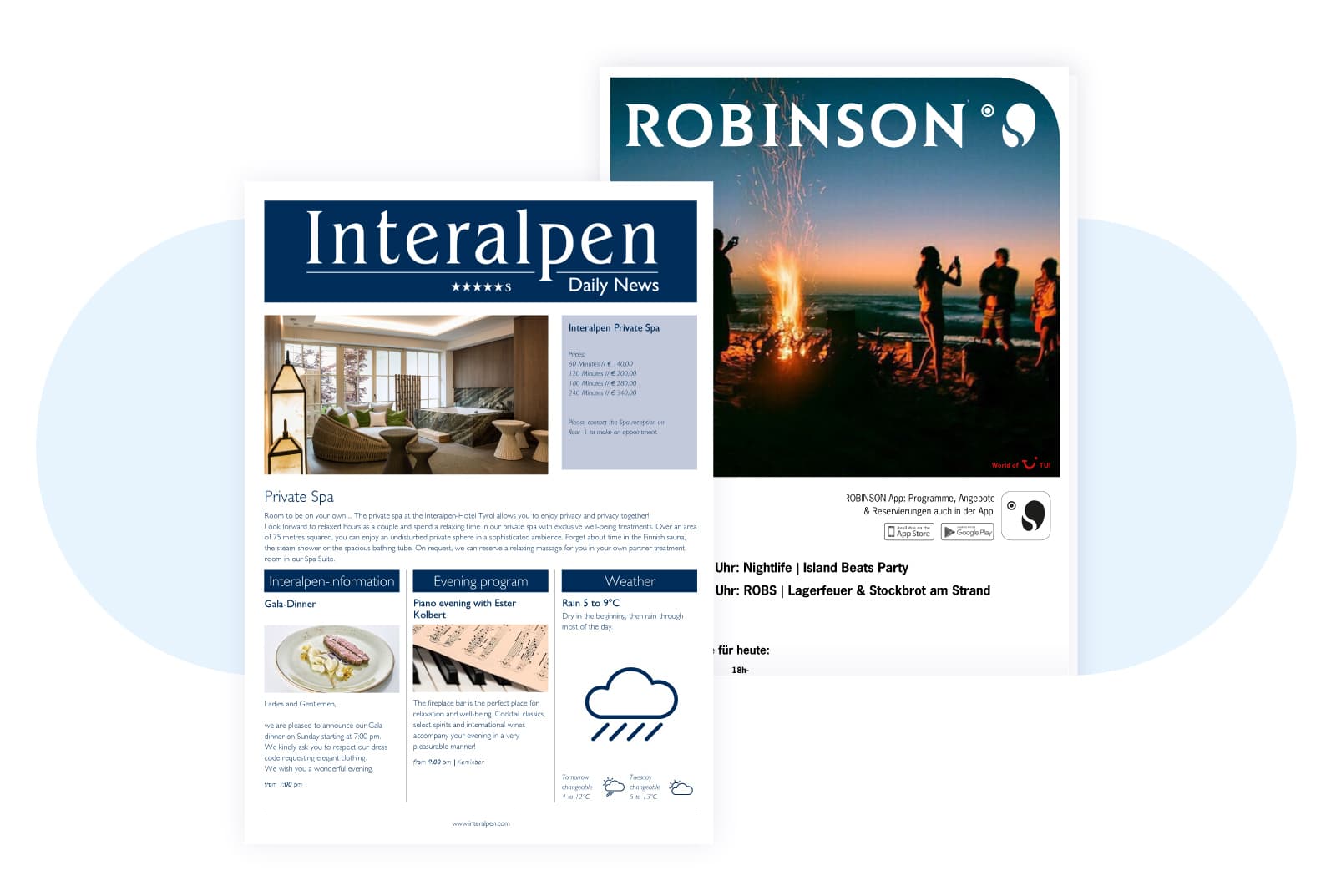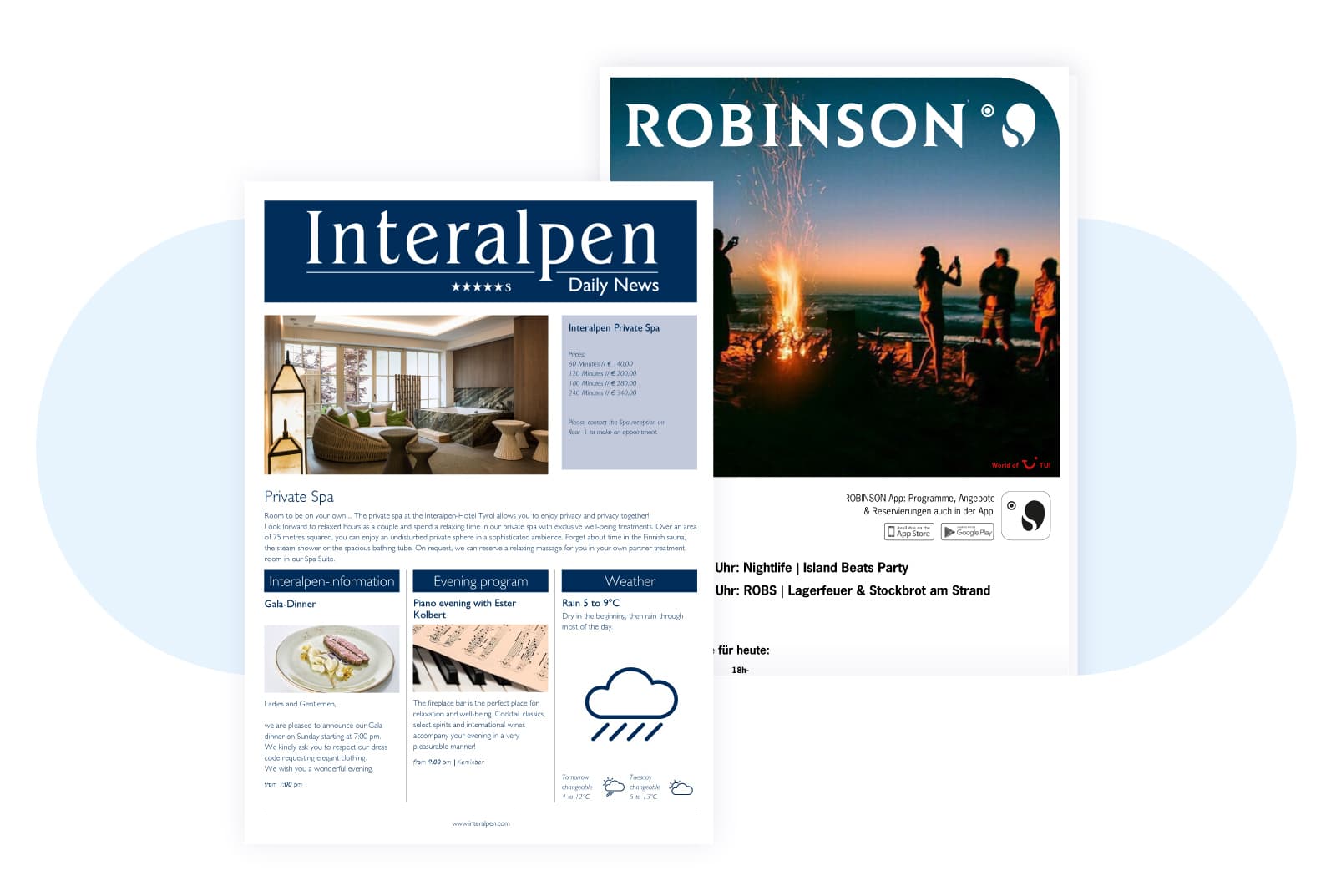 Spa, culture, restaurant menus, flyers and activities
All frequently updated print materials such as SPA programs, activity plans, restaurant menus and opening times are also automatically generated with Hotel MSSNGR. Our tool automatically delivers plans with great attention to detail. Color coding, icons, time formatting – everything is taken care of. Everything that is printed out and connected to the hotel's guest communication is created 100% precisely by Hotel MSSNGR's Carbon PDF tool.
Simply drag-and-drop, pre-fill or use placeholders for your content
Daily printing has never been easier! Hotel MSSNGR provides 100% accurate templates. When content is changed, new content is automatically formatted. Layout and graphic quality is completely guaranteed. To speed things up, Hotel MSSNGR automatically pre-fills your template with recurring events.
For all content that cannot be pre-filled, placeholders are created in your template, such as image sizes, fonts, colors, text alignment, lines and dividing lines. And now, simply place a content area from our Data Management Hub on this placeholder. And voila, the content is immediately formatted according to your predefined formatting principles!
Hotel MSSNGR's product demo: Carbon PDF
See how our co-founder demoes one of our eight guest communication channels: Carbon PDF
Carbon PDF free forever!
Looking for a smaller solution to improve quality and efficiency on your printed guest communication? Carbon PDF in our extralight version is here to help. Entirely free of charge with 15 templates to chose from. Hotel MSSNGR's Carbon PDF delivers 5* guest communication quality at no cost! Sounds attractive? It sure is!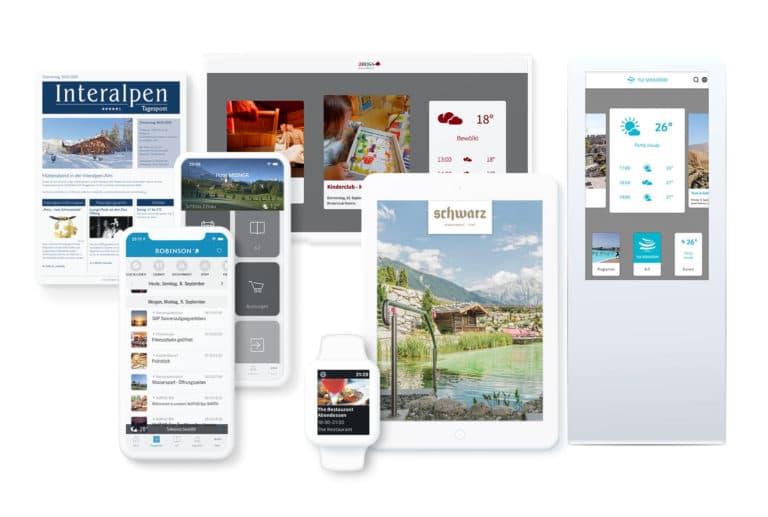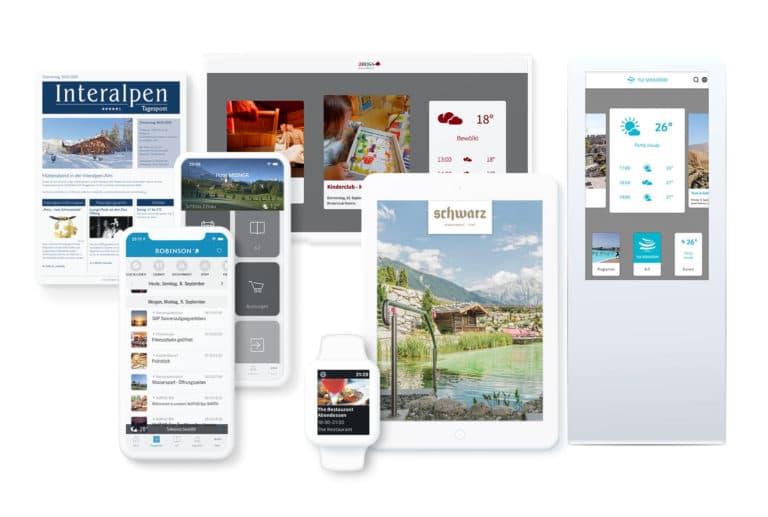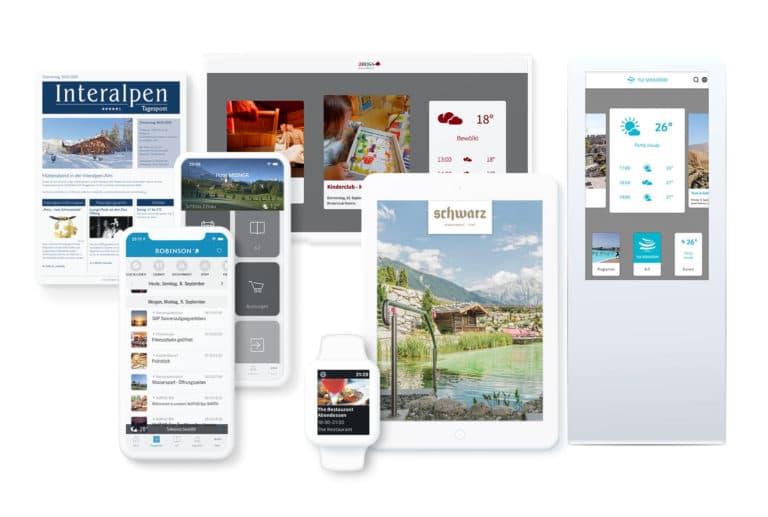 Hotel MSSNGR is proud to serve these fine hotels and resorts and many more:
Book a personal demo!
We show you how to find the perfect
communication channels for your hotel
without adding any extra work at all!
Request a demo now!