App
Hotel MSSNGR's app is one of our core product and most used channel! The app is running on the personal devices of your guests. With our app, you offer the most sophisticated and personal access to what goes on in your hotel in real time. Guests can book activities, services and orders directly from their devices.
iOS and Android Apps for Smart Phones and Tablets
Hotel MSSGNR delivers state-of-the-art native apps for iOS and Android OS – the Apple Watch is supported too! The apps are constantly updated and improved by our UX and UI team and receive high ratings in all properties around the world.
Updated real time
Once entered in the Hotel MSSNGR's Data Management Hub, all content is transferred to the guests' devices in real time. Any changes to your content will be updated and communicated instantly without missing a communication outlet.
Push notifications
Hotel MSSNGR's apps drive guest engagement by sending them push notifications to participate in the hotel's activities or offers. Push notifications are only sent if the guests agree. Your guests can choose what interest-based content they want to receive before allowing push notifications.
Favorites and Reminders
Guests put their individual agenda together by marking activities and information as favorites and saving them in the calendar. The app reminds users not to miss their favorite activities. Activities can also be shared on social media.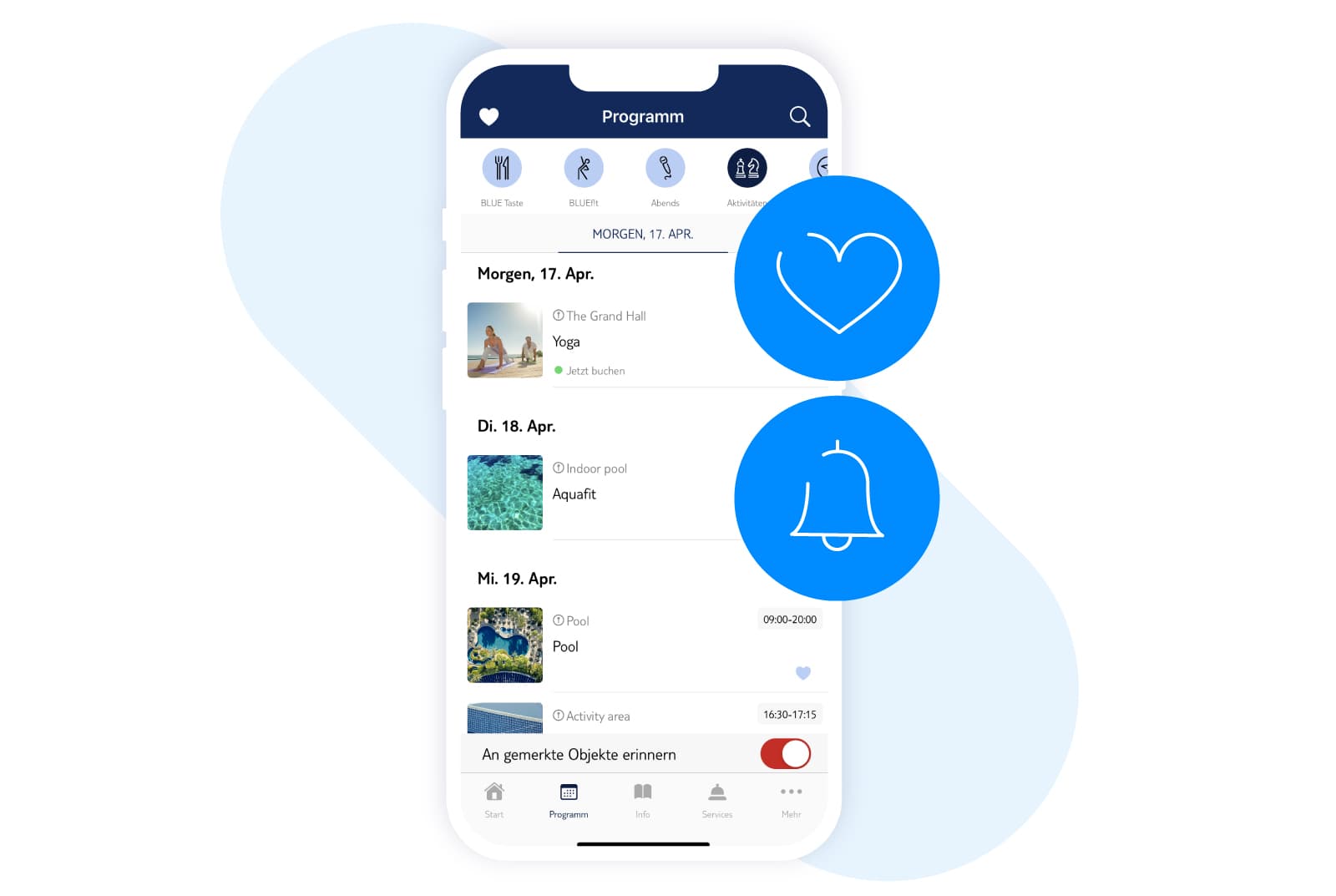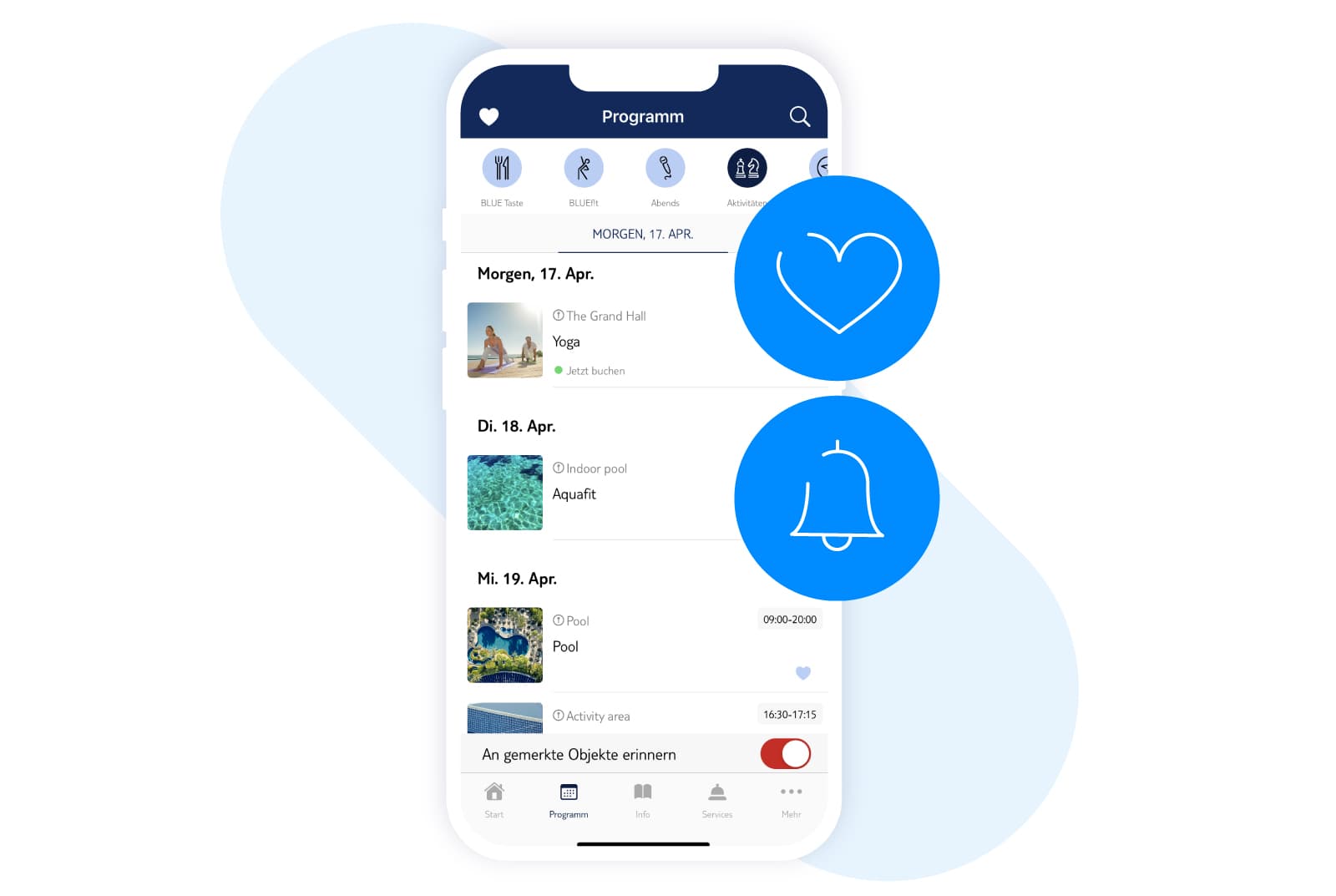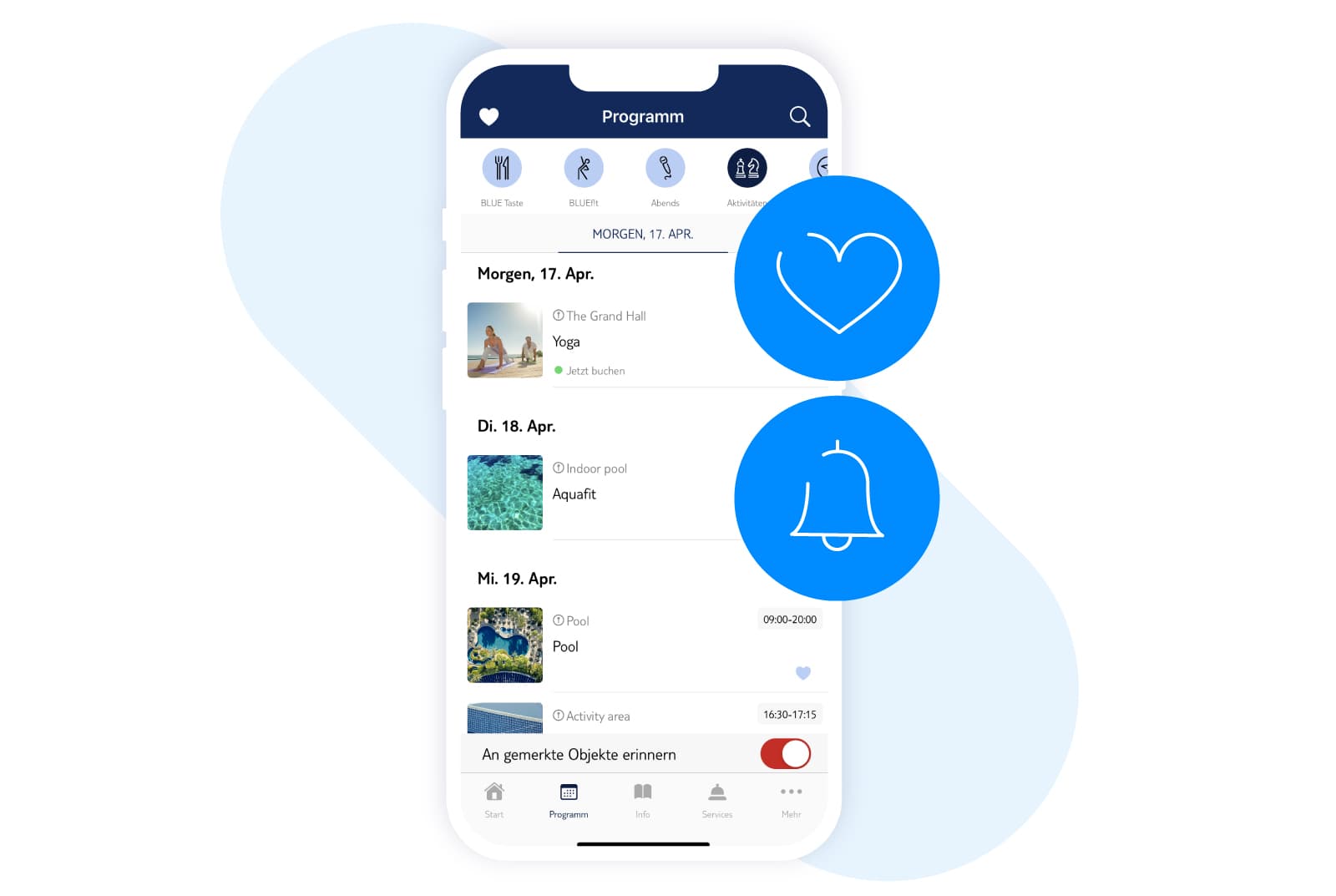 Personalized content filter
All content can be tagged by the hotel. This allows guests to define exactly what information they want to see on their personal device. No spam possible. All information received is kept 100% relevant for the guests.
Activities, directory and offers
The Hotel MSSNGR app is as flexible as the hotel needs. The types of content displayed are Activities, Hotel Information, and Deals. Any type of content is welcome within these content categories: rich text, PDFs, videos, images, websites. Hotel MSSNGR shows the hotel in all its diversity and complexity.
White label
Hotel MSSNGR's native apps are provided in white label versions. App icons, app store texts, app splash screens, colors and fonts are adapted to the appearance of the hotel. Hotel MSSNGR apps integrate seamlessly into the hotel's communication environment – as if they were tailor-made apps.
Pin board
The hotel MSSNGR's pin board function encourages guests to communicate and interact. Designed as an open "many-to-many" chat, the pin board is an easy-to-use tool to promote guest interaction. Like most of Hotel MSSNGR's functions, this feature can be turned off with a single click.
Weather forecast
Hotel MSSNGR's native apps provide powerful weather forecasting. The data includes the hourly 48-hour weather with a probability of rain and a 5-day outlook. The forecast data is updated in real time.
Telephone directory
The native apps from Hotel MSSNGR have a prominent telephone directory. This function is always at hand and enables guests to contact the hotel during the entire customer journey. Be it before arrival to contact the concierge desk, during your stay or to make the next booking after your stay.
Hotel MSSNGR's product demo: Our App
Watch how our co-founder demoes one of our eight guest communication channels: The App
Hotel MSSNGR is proud to serve these fine hotels and resorts and many more:
Book a personal demo!
We show you how to find the perfect
communication channels for your hotel
without adding any extra work at all!
Request a demo now!