Hotel MSSNGR's Data Management Hub
The Hotel MSSNGR's Data Management Hub is the core of our guest communication suite. All guest communication is entered here. And only here. Just one time. The entry will feed all the hotel's guest communication channels automatically, preformatted and in real-time. One of the main reasons for this is that our powerful engine saves hoteliers 70% – 90% of their daily guest communication efforts.
Single source of data for all channels
One of Hotel MSSNGR's key architectual principles. All data needs to be entered only once. Regardless of how many guest communication channels or features are used. This avoids stupidly re-entering the identical data to feed different CMS for different channels. Your team will love it. And your controller will praise the newly won efficiency.
Cloud based
No software to be installed on premises. No updates to be run. No hardware requirements to be met after a new release. Simply modern cloud based software. Hosted in Europe, all GDPR requirements proudly met. Your IT department will love it.
Hotel MSSNGR is content agnostic
Hotel MSSNGR is a software company with a deep understanding and high affinity of our clients. This understanding tells us, every hotel is different – different by its guests, its team and its property. And so is the content to be communicated to its guest. That's why Hotel MSSNGR's Data Management Hub displays everything you need and want to display: Texts, images, videos, audio streams, websites, maps, itineraries, PDFs, documents – simply everything you can think of.
Brand level management
Managing a group of hotels often is a tough job. Overseeing processes that are performed locally is often impossible. Hotel MSSNGR's cloud based software enables hotel headquarters to predefine communication rules visually and content wise. Monitoring all onsite guest communication in real-time is mega helpful. We promise your headquarter team will not want to live without Hotel MSSNGR.
Login and multiple user roles
Engage your team in guest communication. Everyone who should contribute can get access to Hotel MSSNGR's Data Management Hub. Different user roles secure that only high quality and reviewed content is published to the guests. Individual logins secure an easy access control if a member has left the team.
Recurring events make it easy
Convenient scheduling features keep the administrative effort to enter data into Hotel MSSNGR's Data Management Hub low. Use complex recurring schedules and exception rules to structure your guest activities efficiently.
Unlimited languages for unlimited guests
Hotel MSSNGR supports an unlimited number of languages to communicate with your guests. To enhance the guest experience even further, content on the guests' personal devices is automatically displayed in the guests' language.
Browser based - administer your guest communication anytime anywhere
Hotel MSSNGR's Data Management Hub is a browser-based tool. No need to install any software. Anyone with a login can access the Data Management Hub through any PC or tablet with an internet connection.
Online template and image library - QA by design
Quality of content is key. Hotel MSSNGR's Data Management Hub supports you with a templating system. Communication templates enable your staff to add the key details but keep the wording guidelines fixed. The online image library works in a similar way: All images are stored online and can be accessed by the Data Management Hub users. This ensures that only high quality images aligned with the corporate identity principles are used.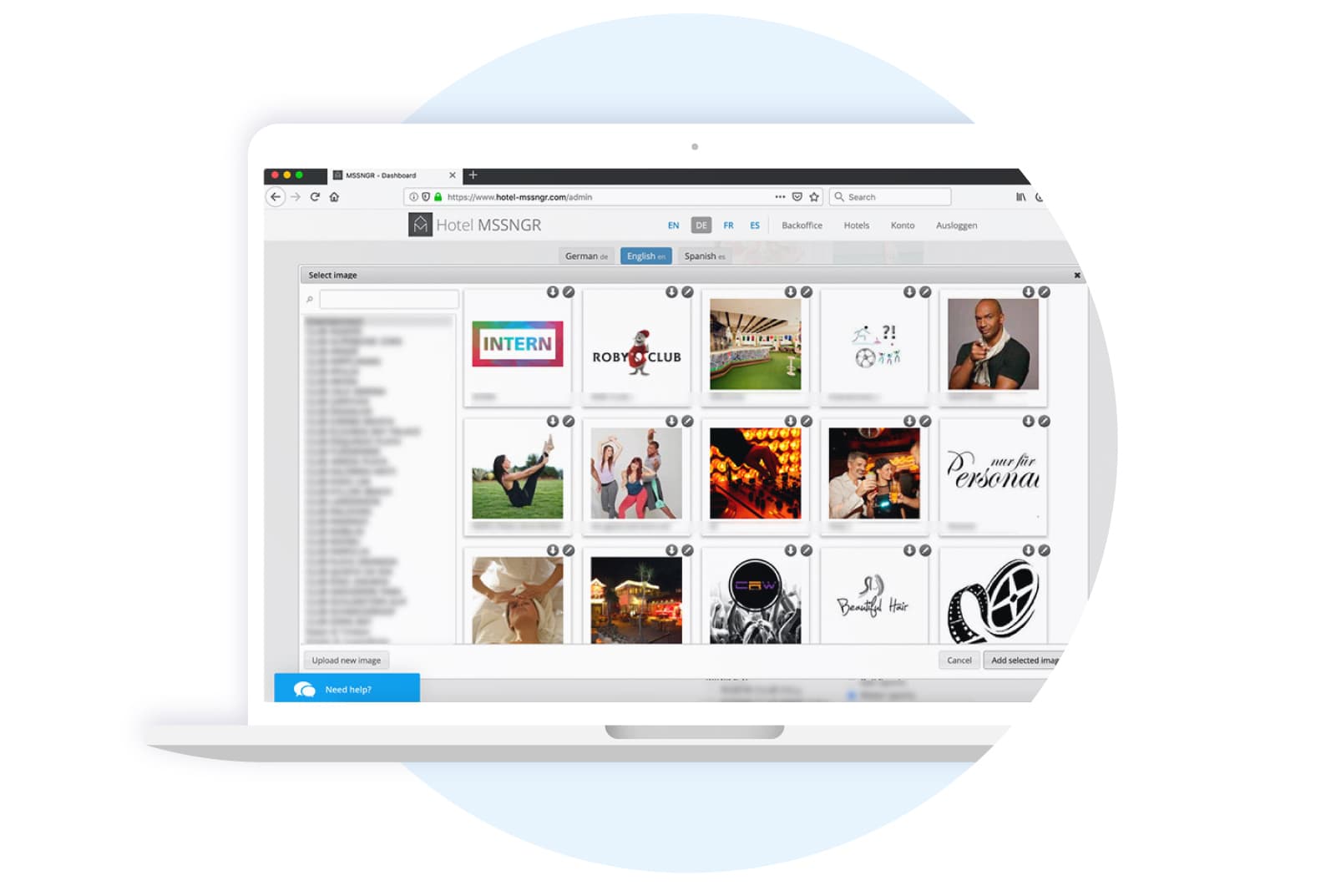 Organize your content by tags and interests
Different guests have different interests. To address only the relevant guests, all Hotel MSSNGR can be tagged to areas of interest. This ensures maximum engagement for matching guests and privacy for all others. Additionally all content can be tagged to allow grouping and structured organization.
Gain deep insights with analytics
Detailed analytics put light on the hotel guests' onsite behavior. Spotlight on the guests' preferences, the information requirements and their buying patterns. Hotel MSSNGR enables hoteliers to structurally understand what's going on in the hotel.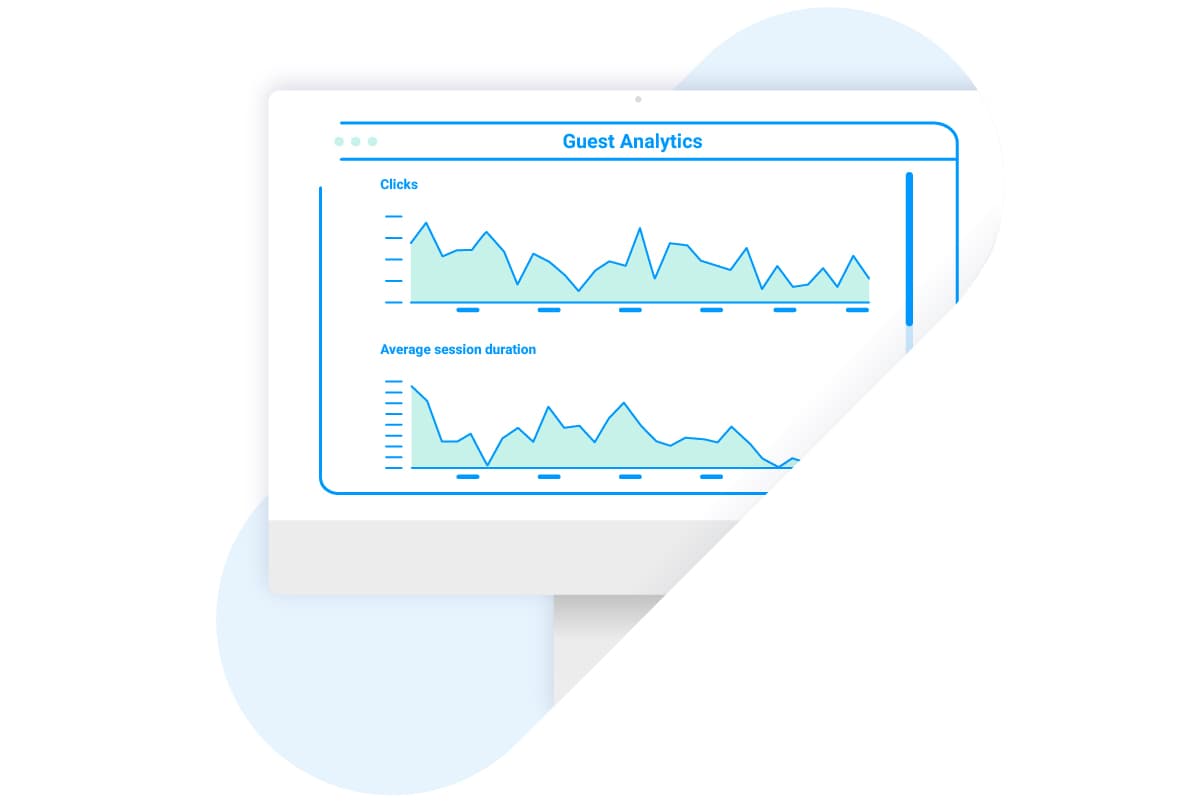 Hotel MSSNGR is proud to serve these fine hotels and resorts and many more:
Book a personal demo!
We show you how to find the perfect
communication channels for your hotel
without adding any extra work at all!
Request a demo now!