Our most popular communication channels - entirely free! Forever!
Hotel MSSNGR is the 5* guest communication solution. Many of the leading resorts and hotels worldwide run on Hotel MSSNGR. Our entry range of our free extralight products we invite also smaller hotels and vacation apartments to benefit from Hotel MSSNGR's outstanding capabilities – entirely free forever! Chose from our four most popular communication channels free of charge and start delivering 5* guest communication to your guests today. And if your property demands more feature feel free to upgrade to our light products at unmatched pricing! Hotel MSSNGR fits every communication need in every property.
Hotel MSSNGR fits the needs of every hotel - as individual as you are!
Compare our extralight and light product range for our four most popular communication channels – Carbon PDF, Web App, In-Room TV and Digital Signage – and cherry pick each module as you like. If your guests require for even more features and functionality, simply add modules from our pro product range!
Carbon PDF
Carbon PDF, our tool for your printing materials delivers stunningly pixel perfect PDFs in no time. For our extralight and light version of Carbon PDF there are 15 different templates to chose from. Your team will love how Carbon PDF eases the daily creation of printable PDFs – all in a never before seen quality within a few minutes rather than hours.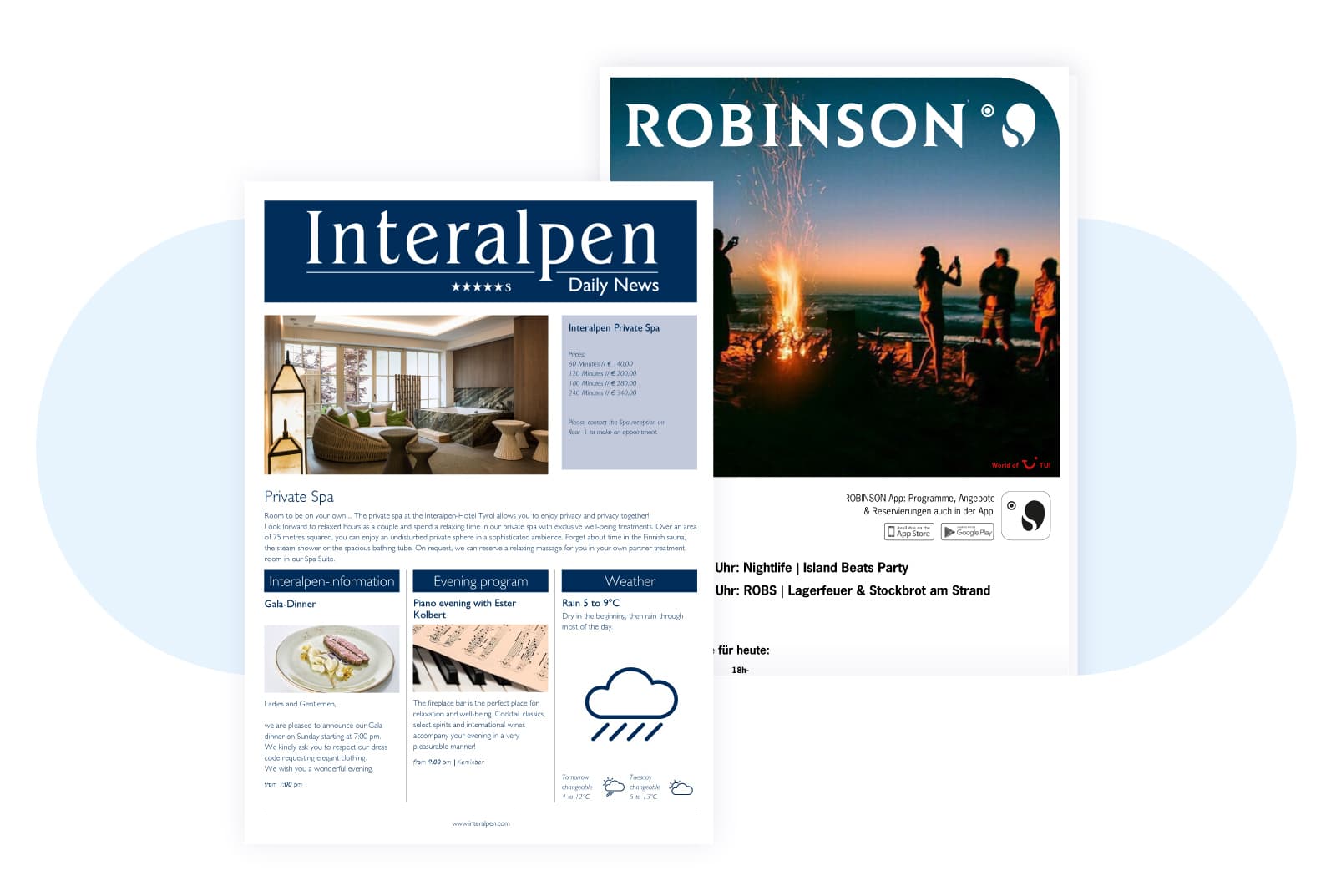 The Hotel MSSNGR Web App
Our Web App is the one communication channel every hotel needs. Simply inform your guests about all that is important to know in a barrier free website optimized to be viewed on smartphones and tablet devices. The free of charge extralight version features the "A-Z" section, the guest directory only. If your would like to offer an overview on the daily program at your property and would like to offer services for upselling the light version of Hotel MSSNGR's Web App is your choice!
In-Room TV
Display your guest communication on the in-room TVs in your guest's rooms. As with all guest communication channels, our In-Room TV allows you to granularly define which content to be shown as an TV feed. Simply deliver all that is relevant to your guests into their room. Hotel MSSNGR's In-Room TV runs on all standard TV systems. Feature your hotel on your TV screens today!
Digital Signage
Hotel MSSNGR's Digital Signage is your guest communication channel to inform your guests in your public spaces. Be it the lobby, in front of your restaurants or SPA or in the gym. Content to be displayed can be fine tuned to match every location of your displays. And yes, our Digital Signage runs on all standard hardware. Our extralight and light product range feature our passive version of Digital Signage. If you prefer an interactive version on a touch screen device for your guests to navigate all your hotel has to offer, simply chose our pro version!
Hotel MSSNGR is proud to serve these fine hotels and resorts and many more:
Book a personal demo!
We show you how to find the perfect
communication channels for your hotel
without adding any extra work at all!
Request a demo now!